Selena Gomez is taking a break from social media amid the Israel-Hamas conflict. Recently, famous Hollywood pop singer Selena Gomez shared a post story in which she said that she is taking a break from social media as it is getting painful for her to react to anything after seeing horrible things happening in Israel and Gaza.
"She further mentioned that the pictures and videos rolling over the internet are horrific and urged people not to do so and said that this violence should be stopped and people should be saved, especially children."
On her Instagram story, she said, "I've been taking a break from social media because my heart breaks to see all of the horror, hate, violence, and terror that's going on in the world. People being tortured and killed or any act of hate towards any one group is horrific."
Furthermore, she added, "We need to protect all people, especially children and stop the violence for good. I'm sorry if my words will never be enough for everyone or a hashtag. I just can't stand by innocent people getting hurt. That's what makes me sick. I wish I could change the world. But a post won't."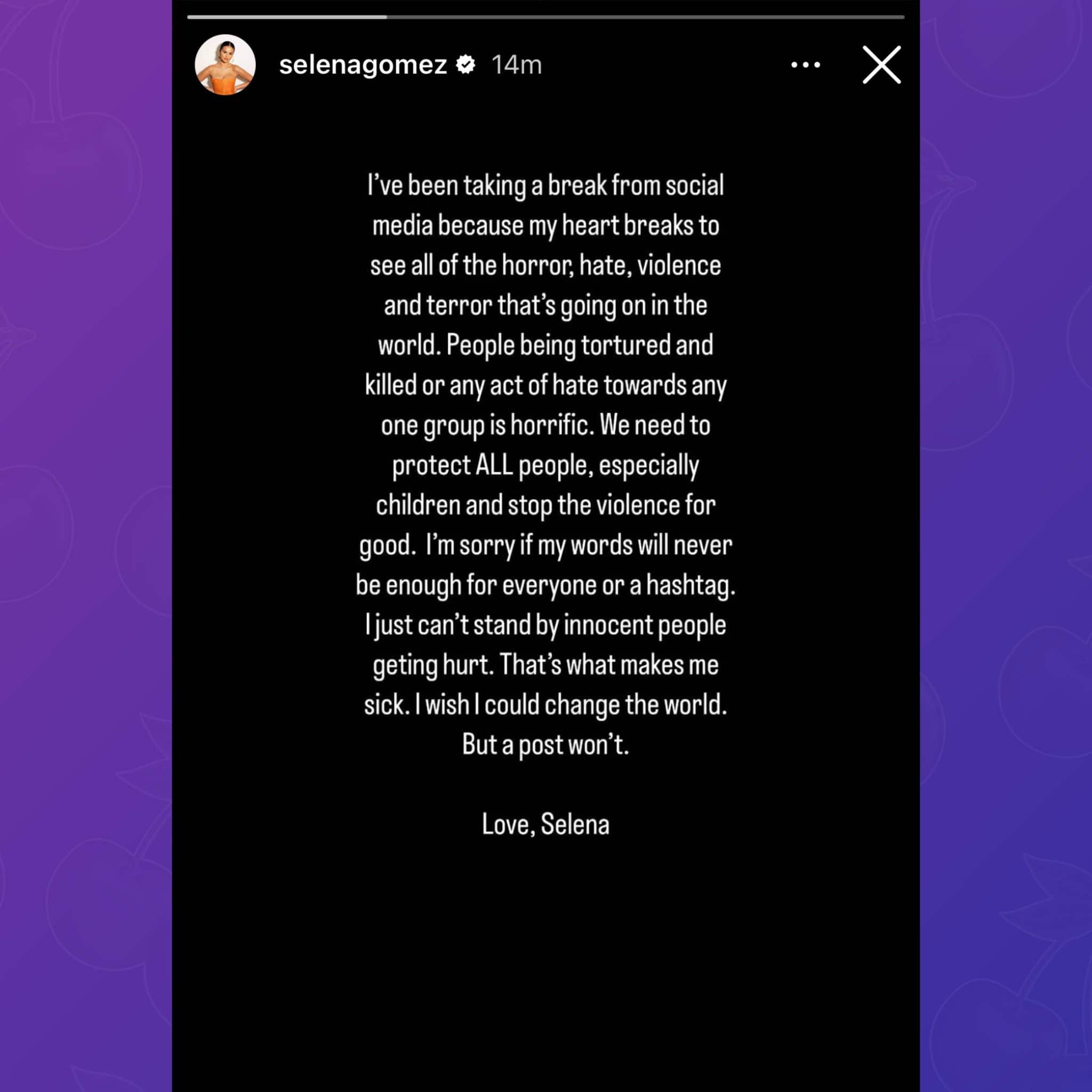 Intriguingly, this Instagram story came after her fans questioned her for not speaking up on such a big massacre. Her fans reminded her that she has been the UNICEF ambassador since 2009, and remaining silent on such a big matter doesn't suit her personality.
Her fans even threatened to boycott her and her beauty products, and even after this story, her fans don't seem to be pleased.
Selena Gomez has 430 million followers on Instagram, and she is a UNICEF ambassador. She is a highly famous global celebrity.
According to netizens, with such a big fan following, she could have done better. A blue tick holder named 'Steven' wrote ", A post won't physically change it. But raising awareness to your 430 MILLION followers can and will make huge impacts by spreading the word and raising donations to Palestinian families. I love you, Selena, but this is a poor take."
Selena Gomez is a global star who has collaborated with many artists, including Nigerian artists as well. Lately, she collaborated with one of the famous Nigerian artists' Rema' for the song 'Calm Down', which became a global hit and secured 690 million views on YouTube and around 1 billion Spotify streams.