The Leading candidate of the Labour Party, Uche Okonkwo, who would contest the upcoming elections in Nigeria for Idemili North and South Federal Constituency, visited the Ogidi ward on Sunday, February 5, 2023. During his visit to the community, he met and interacted with several neighbourhood residents. The residents greeted the Labour Party Candidate warmly and with passion.
The labour party candidate, Okonkwo, started his tour of the Ogidi Ward from the Palace of His Royal Majesty Igwe (Pharm) Alex Uzo Onyibo (Igwe Ezechuagha of Ogidi Kingdom). The politician interacted with Alex Uzo during his visit to the palace. His Royal Majesty, the regional ruler of the Ogidi Kingdom, Alex Uzo, also talked during the courtesy visit.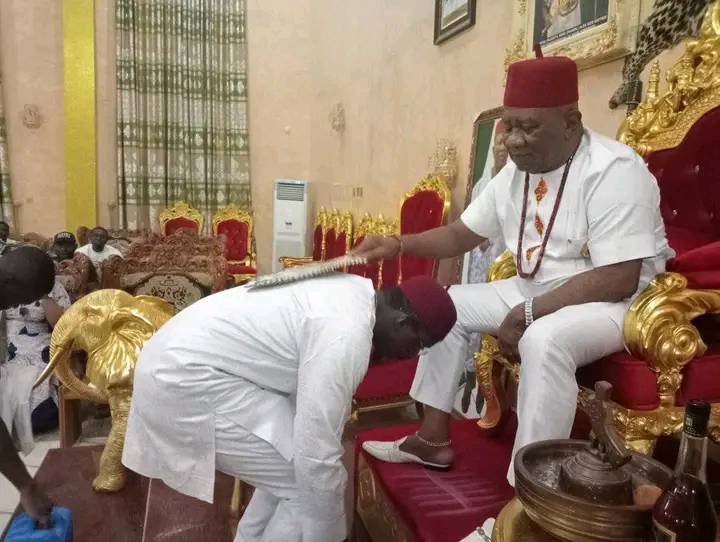 In his remarks, HRM Igwe Alex Uzo described Uche as a vibrant and brilliant young man full of innovative and legislative ideas to bring about the new Idemili. At the same time, the ruler of the Ogidi Kingdom gave Uche his royal blessing and prayed for him. Following the courtesy visit to Alex Uzo, Uche Okonkwo toured the Ogidi community.
The Labour Party politician toured the community with the message of Collaborative representation. He stated that Idemili is the intellectual base of the Anambra state. He also observed that the Youths of the community have a lot of potential that only visionary leadership can be capable of recognising and harnessing the said potential of our Youths.
Uche Okonkwo further buttressed that his legislative interventions will be able to provide mentorship and empowerment programs for the Youths, quality education and health care system for the elderly and children and Infrastructural development.
Accordingly, He urged Ogidi ward to support the vision of the labour party presidential candidate, Peter Obi, to move Nigeria from a Consumption economy to a production economy. He also believes that the presidentship of Peter Obi will bring about a prosperous and secured new Idemili.