Nigerian Youtuber, Storyteller and travel Vlogger Tayo Aina has recently started a new series telling stories from across the African Continent. The new venture, called New Money, is an Educative Lifestyle series that follows the life of Millennials in Africa.
The project features a series of episodes. Each episode features the story of a different individual from Africa. The new series will feature on a new youtube channel, Rediscover. While talking about the new series, the Nigerian Youtuber Tayo Aina took to his Instagram account.
He wrote:
Over the years, I have had many ideas and stories I wanted to bring to life, but I was limited by what I had built.
He confessed in the Instagram post, "Starting anything new is always scary, which has also held me back for some time, but I have decided to take the plunge anyway and do it scared."
He announced the project on his Instagram account and explained that It's a space where they can tell original African stories without boundaries and limitations.
Further, he talked about the new youtube platform, Rediscover TV. He stated that the platform is built around a mission to tell stories about Africa and Africans you won't see anywhere else. It's also a platform to collaborate with new creators and experiment with new ideas.
He confessed I haven't figured out all the bells and whistles yet, but we will learn and build as I go. We are starting from scratch and plan to grow organically, so we will appreciate every new subscription, like, comment and share on the videos.
The first two stories are from individuals living in Lagos, Nigeria.
The first individual, Folastag, is a commercial food and portrait photographer and chef. The individual lives in Nigeria and makes approximately $45,000-60,000 in a year.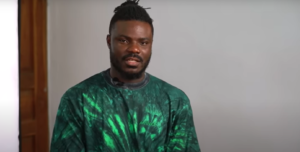 , ranging from his daily routine, life path, education, expenditure relationship, and family, among other things.
He Folastag talked about his career, the first time he brought a camera, the first image of food he captured, his education, hobbies and even his living space, which made a breathtaking part of his story.
The second individual to get his story told on the platform was that of Pamelarin Adegok. He is a 28 year old digital marketer and makes around $200,000-$300,000 every year. He also lives in Lagos and says that he likes the experience.
Like the first subject, he also talked about several aspects of his life, including his career as a digital marketer and social media influencer, his investment, food choices, etc.