Peter Obi, The presidential candidate from the labour party and former governor of the Anambra state, recently visited the site of the fire explosion at Ogbo Ogwu Market, Onitsha. The area is part of the Anambra state. The region's former governor came to his Twitter account to share his grief over the incident.
He wrote I observed first-hand the level of destruction of lives and properties resulting from the inferno.
During the trip, Peter Obi interacted with the people of the state. Following the incident and witnessing the destruction, He assured them that the victims had his support in the trying times.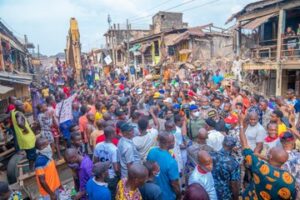 Further, He also urged the government of Anambra and other well-meaning Nigerians to support the victims after the incident. He also urged them to help the people in rebuilding their livelihoods. 
Peter Obi's gesture has garnered a lot of positivity on the internet. Several social media users have lauded his actions.
At the time of the fire tragedy, the people of Nigeria, especially Anambra state, repeatedly expressed their disappointment over the lack of preparedness on the state government's part. 
Many questioned the government's management while dealing with the disaster. At the same time, several videos of a malfunctioning firetruck also surfaced on the internet. They also questioned the state government on the management of funds.
Meanwhile, The present governor of Anambra has alleged that Obi's investment in Anambra is worth nothing. In an interview aired on Channel Tv, Professor Chukwuma Soludomade this allegation on Thursday, November. The Programme's Name is Politics Today. 
Several Labour Party Candidate Peter Obi supporters disagree with the allegations. They stated that Obi's investment would do no good if it kept sitting in the bank accounts.
They believe the state government must use the funds allocated to them wisely. Any investment, if not used wisely, would bear no fruit.