Saint Lucia: The Deputy Prime Minister of Saint Lucia, Ernest Hilaire, announced the Ministry of Commerce hosted the inaugural MSME Loan-Grant Cheque Award to its first six (6) recipients.
As per Deputy Prime Minister Ernest Hilaire "This programme promises to provide the much needed support to a very key sector of our economy, the micro and small businesses." He also added that through this programme, the government of Saint Lucia will support the locals through various government-affiliated agencies and ministries.
The government of Saint Lucia organized an inaugural MSME loan grant cheque ceremony at Finance Administrative Centre Pointe Seraphine Castries.
As per the sources, the Mistress of the ceremony was in the hands of Ms Heidi Alcindor, and the programme started at 9:30 with the opening prayer. After that, at 9:35, Minister for Commerce, Manufacturing, Business Development Coopertives, and Consumer Affairs Emma Hippolyte gave welcoming remarks to the attendees.
After Minister Hippolyte's remarks, the Acting Head of the Private Sector Division, Caribbean Development Bank head Lisa Harding, gave remarks and followed by an address by the Managing Director of Saint Lucia Development Bank, Cornelius Sidonie.
At the end of the programme, President and Saint Lucia Small Business Association Head Flavia Cherry gave remarks. Post remarks and addresses by all the ministers, a break was given and everyone had a Musical Interlude.
At 10:00 am, Prime Minister, Minister of Finance, Economic Development, and Youth Economy, and Minister of Justice and National Security of Saint Lucia, Philip Joseph Pierre, came and gave his remarks on the programme.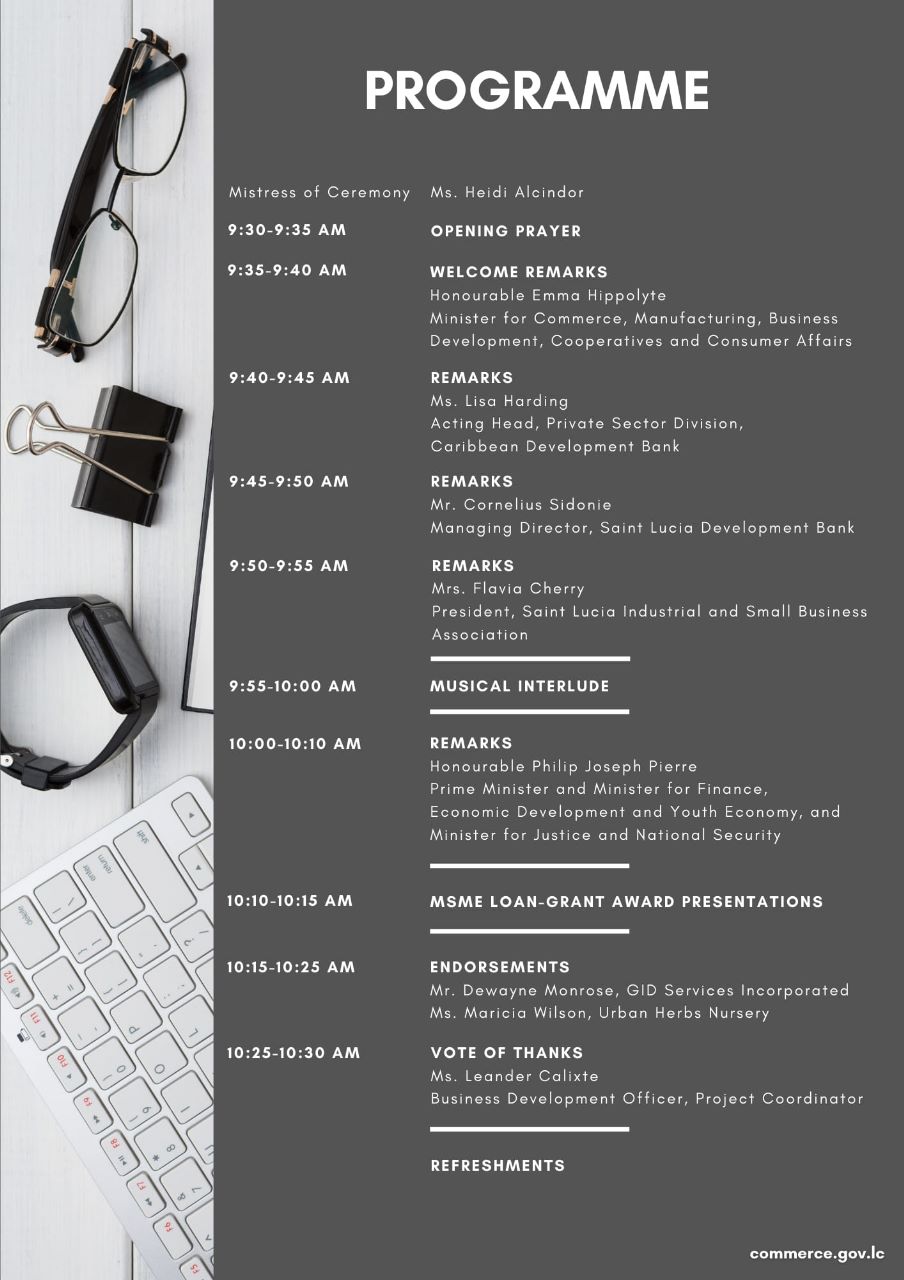 PM Philip J Pierre said, "Today, we have delivered on our promise to provide the MSMEs with the financial assistance they need to become wealth creators. Through this facility, 70% grant and 30% loan at 3% interest, disciplined entrepreneurs can create sustainable livelihoods and contribute to the development of this country."
"I urge you to take advantage of this opportunity and contact the Ministry's Small Enterprise Development Unit (SEDU) at 468-4218 or 468-4223 or visit www.commerce.gov.lc," added PM J Pierre.