The State Party Chairman of the nationally recognized and active political party, the All Progressive Congress (APC), Ali Bukar Dalori, along with Barrister Kaka Shehu Lawan, the APC Candidate for Senator Borno Central and Dr Zainab Gimba, went to the Gamboru Ngala local government Area of Borno Central Senatorial District.
Reportedly, They were at the Local Government Area for the unveiling of the central Borno Campaign in the Gamboru Ngala local government Area. Before the unveiling ceremony, the All Progressive Congress explored some parts of the local government area. 
Following this, the campaign rally was flagged off by the guests and esteemed leaders of the All Progressive Congress in Ngala and Gamboru local government Areas.
Meanwhile, The APC Senatorial Candidate for Borno Central Barr. Kaka Shehu Lawan addressed the gathered attendants of the Local Government area. During his address, Barr Lawan expressed his gratitude to the people of Gamboru Ngala and Kala Balge for Coming out in large numbers to receive him and his colleagues.
Others among the visitors also delivered their respective addresses to the people in attendance at the launch event.
Further, the speakers included the APC State Party Chairman, Ali Bukar Dalori and Dr Zainab Gimba. Zainab Gimba is the member representing Bama, Ngala and Kala Balge in the lower chamber. 
Dr Gimba appreciated the local people who attended the event in such a massive number. He also urged them to participate fully in the 2023 General elections. He appealed to them to Vote for the All Progressive Congress at all levels of the government. From top to bottom.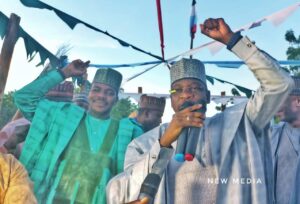 Additionally, Several other prominent politicians attended the unveiling of the campaign event. Some of the names are listed here:
Deputy Party Chairman of Central Borno, Baba Kura Habib,  

Member Representing Ngala, Bukar Mustapha Dalatu, 

Member representing Kala Balge, Dige Muhammad.
Other attendants include: 
Members of National Assembly

Members of State House of Assembly, 

APC Stakeholders, 

Traditional leaders.