Ababu Namwamba, the cabinet secretary for the ministry of Youth Affairs, Sports and Arts in the Government of Kenya, announced that his creative ministry is committed to supporting the local artists of the nation.
The Cabinet Secretary believes if the Government can forward a supportive hand to the individuals, they can contribute significantly to the local entertainment scenes.
Cabinet Secretary Namwaba made the declaration while he was representing President William S. Ruto at the closing ceremony of the 4th Kenya Universities Performing Arts & Film Association Drama, Beauty Pageantry, Visual Arts & Film Festival at Jaramogi Oginga Odinga University in Bondo.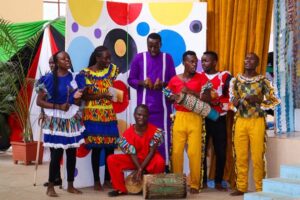 The Cabinet Secretary reiterated that his ministry would dedicate resources and support towards expanding the creative industry of Kenya. The government seeks to do this so that the they can make this an industry which our youth can live off earning a decent income doing what they love.
Further, Cabinet Secretary Namwamba revealed that the Government is keen to monetise Creatives as a critical economic driver.
He further added that his ministry is in advanced talks with the various stakeholders in the creatives and arts space. The ministry aims to unlock the full potential of the creatives in the country.
"I want to assure you that under my leadership, we will put in place policies that will see to it that we tap into the enormous pool of talents in our country and robustly develop this creative industry so that our artists can earn decently from their creativity."
The Cabinet Secretary Namwamba promised to work together with the Education Ministry to ensure that the KUPAA festival is supported to become an important avenue where talents can be spotted at the bottom of the chain and natured.
During the closing ceremony of the event where he delivered the announcements and address, The Cabinet Secretary was joined by Ambassador Simon Nabukwesi, Principal Secretary, State Department of University Education and Research.